Once you've purchased Orlando luxury real estate and are settling into your wonderful new home, it's time to start adding your own personal touches.

It can seem a bit overwhelming to take what had been an empty home and begin arranging your furniture and other possessions so that you can really start to enjoy the fabulous Orlando lifestyle. However, take your time to do it right as you settle in for the long haul.

As you get comfortable in your new home, think about how you can make your home warm and inviting. After all, you hope to have plenty of visitors, including family members and friends, who plan to come to Orlando to see its theme parks and other attractions.

The best place to begin in Orlando waterfront homes is the entryway. Many Orlando homes have large elaborate entryways that can be viewed as a blank palette for you to decorate according to your own sense of taste and style.

Decorating an entryway can involve painting it in warm color or adding vibrant wallpaper, adding a piece of furniture, and hanging family photographs and artwork. Do whatever you believe is the best way to make your home cozy and inviting. This is where visitors will get the first look at your home, and you want them to feel welcome.

Here are some ideas to decorate the front entryway in your Orlando luxury real estate.
Paint the door
The door is always the focus of the entryway, so make it stand out by painting it in a color that is both eye-popping and pleasing without being overwhelming. Pick a color that contrasts nicely with your wall color and something that evokes living in the Sunshine State. You could select a green or blue pastel, a yellow, or maybe a rose or pink color.
Change the wall color
You can choose to keep the entryway walls in the same color as the rest of the house, or you can introduce some pizzazz by painting it in a completely different color. Whatever you decide, make sure it flows easily into the rest of the house or provides a nice contrast. When you bought your Orlando luxury real estate, the interior was almost certainly painted in a neutral color, such as off-white, gray, or beige. Painting the entryway in another color is a great place to begin putting your imprint on the home.

If your entryway is small, you can make it appear larger by painting it in a bright color.
Wallpaper the entryway
If you want to go bolder in your entryway, pick a lively wallpaper pattern that is sure to be a conversation starter when guests arrive at your home. There are myriad patterns, colors, and textures of wallpaper available today, giving you a wide array of options. While striving to use wallpaper to express your personality, try to stay with something that's not too overpowering. As with paint, select a wallpaper that will make your entryway feel bright and airy.
Add furniture
A classy way to decorate the entryway in Orlando waterfront homes is to add a piece of furniture. One of the most functional pieces for any entryway is a table or console that can serve multiple purposes. A table can hold a vase of flowers, framed family pictures, and a place where you can set your car keys or mail. It can also be used for guests to leave their purses or other personal property when they drop by for a visit.

Another furniture option is a low-slung couch or a chair or two. These furniture pieces can be both decorative and functional. For instance, this sitting area could be a quiet area to visit with someone during a party or other event.

A built-in bench seat would be a strong point to your entryway, and it can even double as a storage space.

Depending on the size of your entryway, you could add a bookcase or cabinet. Again, these pieces will be practical as well as visually appealing, and can also be a topic of interest when guests and friends enter your house.

Regardless of which furniture option you choose for the entryway of your Orlando luxury real estate, make sure the pieces fit naturally and don't impede foot traffic through the room or are set too close to the door. Remember, you often pause for a few minutes in the entryway to greet guests and chat with them before moving into the rest of the house, so you don't want it to be cramped.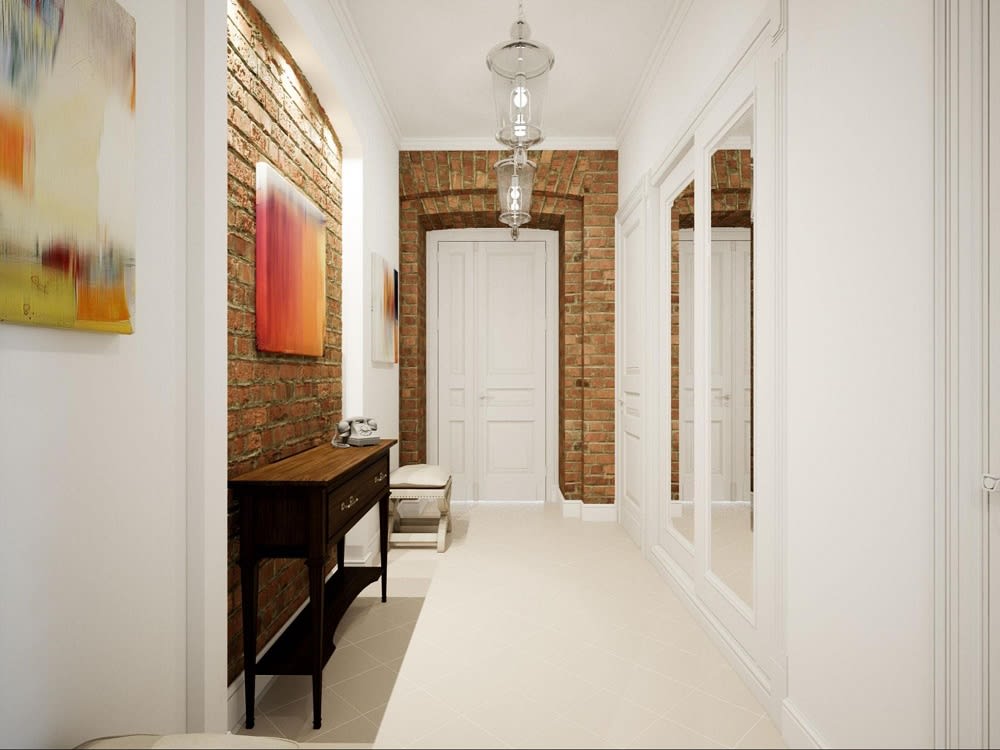 Photo courtesy of mymove.com
Use wall hangings
Most entryways in Orlando luxury real estate provide plenty of wall space for you to hang family pictures or various pieces of art or other photographs. You could go with one large wall hanging surrounded by a few smaller pictures or art, or you could display a number of photos. Just don't try to jam in too many or your walls will be too crowded and it will take away from the general look of your entryway.
Hang a mirror
Another way to make your entryway look spacious and airy is to hang a mirror. Mirrors come in a variety of shapes and styles, and an antique mirror would definitely be a conversation piece.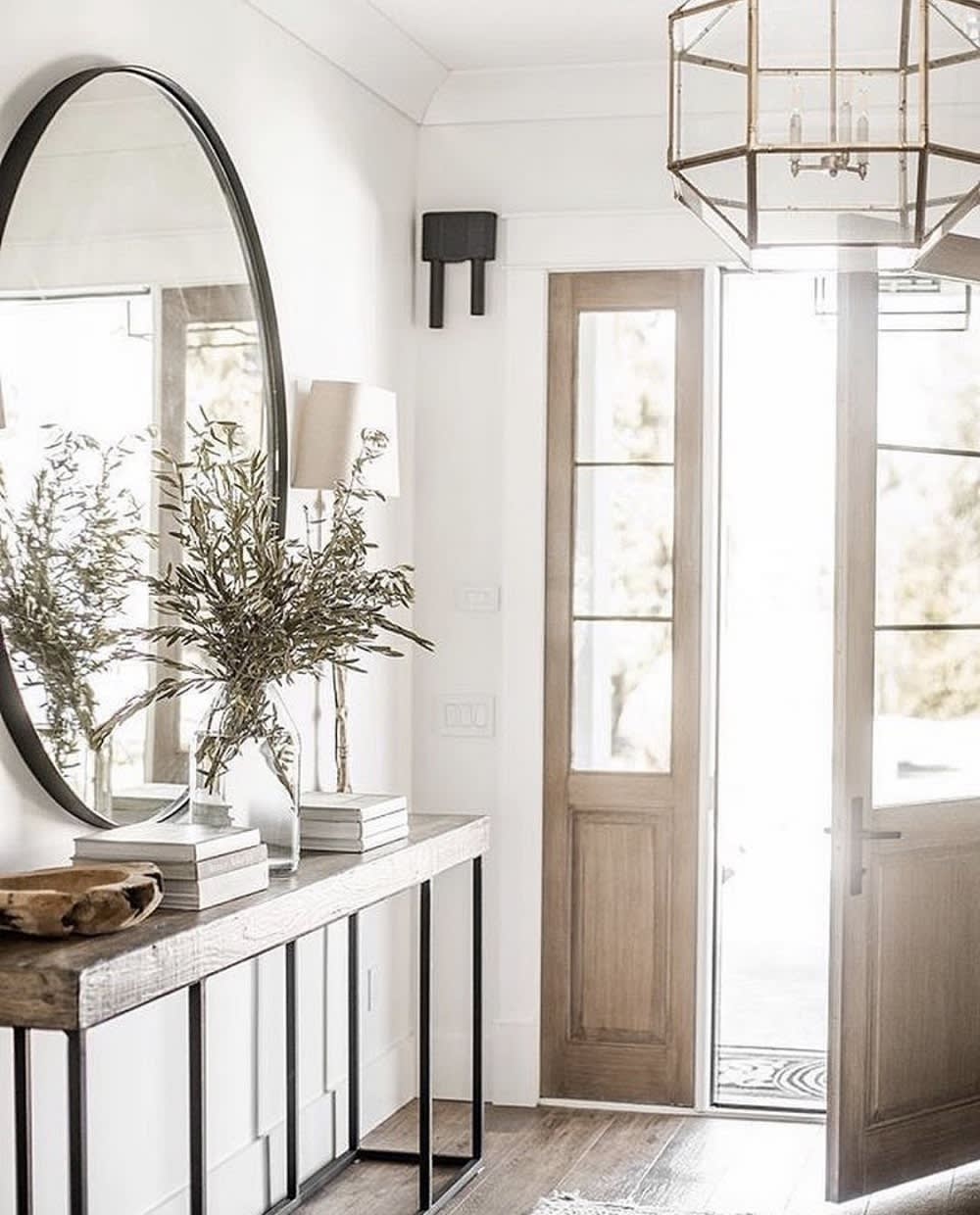 Photo courtesy of thespruce.com
Install lighting
Your entryway might be bright enough during daylight, but it might lack sufficient light after dark. If that's the case, hang an appealing chandelier light or even add a floor lamp if there's enough space. Another possibility is to place a decorative lamp on a table you already have in your entryway.
Don't forget the floor
You can tie it all together with an attractive area rug in a pleasing color or design. Be sure to put a nonslip pad under it to keep it from slipping out from under visitors.
If you plan to buy or sell Orlando luxury real estate in the near future, let Fernanda Negromonte expertly and professionally handle the transaction.