Orlando is one of the most-visited cities in the United States, drawing tens of millions of people every year to its dozens of theme parks, including Walt Disney World and Universal Orlando.

While those amusement parks give Orlando its identity as well as provide thousands of jobs, there's a lot more to The City Beautiful than theme parks.

The city of 281,000 is also a popular destination for newcomers who want to enjoy the Sunshine State lifestyle, including that fantastic weather, great jobs, affordable cost of living, and a myriad of things to do, most of them outdoors.

Orlando enjoys a prime location in Central Florida, located roughly halfway between Jacksonville and Miami. It's just an hour's drive to the beaches on the Atlantic Ocean, including Daytona Beach, and roughly 1.5 hours to Tampa on the Gulf Coast.
Home costs
If you intend to relocate to Orlando, you're certainly not alone. Tens of thousands of new residents relocated to Orlando during the pandemic, most of them from the crowded, cold Northwest.

Orlando provides the kind of spacious houses with outdoor spaces that people from other regions of the country are looking for. Orlando is a great place for families, and it also is attractive to young professionals who are able to work remotely while enjoying the relaxed lifestyle in the county seat of Orange County.

While the price of Orlando luxury real estate has shot up in recent years, it is still far more affordable than some of the red-hot urban areas in other parts of the country, particularly in the Northwest and California.

Orlando is firmly a seller's market, meaning there are more homebuyers than there are properties available. The tight inventory, as well as mortgage interest rates that remain near historic lows, continue to drive prices upward.
Things to know about Orlando
The weather
Many residents of Orlando luxury real estate describe living in the city as like being on permanent vacation. And how could it not feel that way since Orlando's average temperature is 73 degrees, and residents can expect about 233 sunny days per year.

If you are a beach person, there are several great beaches on the Atlantic Ocean about an hour's drive east. Among them are Cocoa Beach, Clearwater Beach, Daytona Beach, New Smyrna Beach, and the gorgeous Canaveral National Seashore near the famous space launch complex.

That said, you don't have to leave town to find many wonderful outdoor recreation options.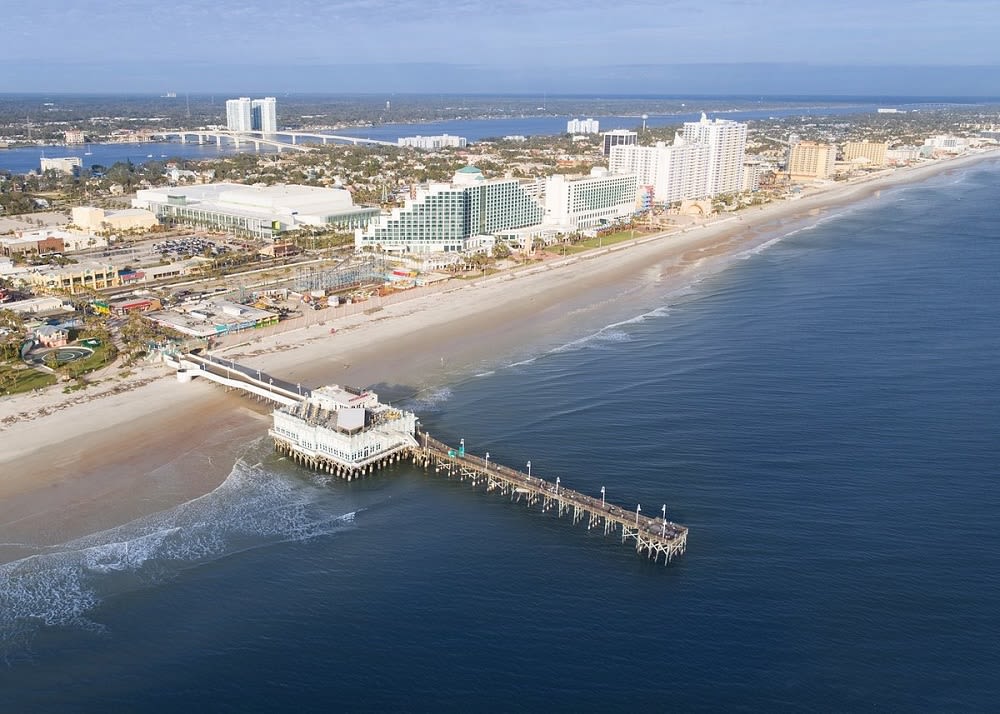 Daytona Beach, Credit: TripAdvisor
The Orlando area is dotted with lakes, many with Orlando waterfront homes. Among the most popular water features is the Winter Park Chain of Lakes, which are six lakes connected by navigable canals just north of downtown Orlando. These lakes are great for fishing, boating, water skiing, kayaking, and paddleboarding.

Just a short drive to the northwest is the massive Wekiwa Springs State Park, which is great for swimming and hiking.

For those who prefer to get their exercise on dry land, there's hiking in Tibet-Butler Preserve and in many other open spaces around Orlando.

Other parks and nature preserves to visit include the University of Central Florida Arboretum, Harry P. Leu Gardens, the Great Florida Birding & Wildlife Trail, Gatorland, and Central Florida Nature Adventures.
Job opportunities
There are plenty of jobs available in many different sectors for people who buy Orlando luxury real estate. The most obvious area is in the hospitality industry, both at the parks themselves and at the many hotels in the city.

But the job market extends deeper than that. Orlando has become a hub for business and technology and is perfect for startups and entrepreneurs because of its relatively low cost of living. It also is a hub for healthcare and there are many colleges and universities in the area.
Great place to retire
Let's face it, one of the big reasons people move to Orlando is because it's a great place to spend their golden years. Orlando enjoyed a lofty spot at No. 18 in US News & World Report's "Best Places to Retire" this year. The rankings are based on happiness and desirability, cost of Orlando luxury real estate, taxes, and availability of quality health care. Obviously, Orlando checks all those boxes.
Gorgeous lakefront scenery
If you're moving to Orlando to take advantage of the stunning climate, you'll likely want to get out on the water. Luckily, you'll be situated closely to Butler Chain of Lakes, a chain of 13 lakes that spans 5,000 acres between Orlando and Windermere. Perfect for boating, water sports, and fishing, this is the perfect recreational destination.
No state income tax
One of the many benefits of moving to Orlando is that you, like every other person living in Florida, won't have to pay state income taxes. That means there's more money in your take-home pay that you can use on things like being able to afford a bigger house and all the wonderful activities available.
Arts scene
Orlando has an ever-expanding arts and culture scene. There are museums and galleries galore, including the Orlando Science Center and the Orlando Museum of Arts, as well as festivals and entertainment venues such as the Dr. Phillips Center for the Performing Arts.
Find a great agent
As well as familiarizing yourself with this clean, attractive city, you should be looking to hire a real estate agent who has several years of experience helping clients buy and sell Orlando homes. A knowledgeable agent will get to know you and your personal and professional needs and will match those with one of the many wonderful neighborhoods or suburbs in the Orlando area.

Among those neighborhoods are Thornton Park, Baldwin Park, College Park, Metro West, Florida Center North, and the lively downtown area.

You definitely need the assistance of a real estate pro in a tight market like Orlando. Your agent knows immediately when new properties come on the market and can quickly line up a showing, which could give you an edge in submitting a winning offer. An agent will also help keep you focused and moving forward if you have the number of offers declined. It can sometimes be frustrating when house hunting in a tight market, but following the advice and comforting words of your agent will help get you through it.

If you plan to relocate to Orlando, contact Fernanda Negromonte for the best experience in buying Orlando luxury real estate. Her local expertise is exactly what you need in your corner for a smooth relocation experience.

*Header Image Credit: news.orlando.org