Orlando is packed with a diverse range of neighborhoods. Choosing the right one for you can be difficult, but it doesn't have to be. Here are a few of the top neighborhoods in the city.
Windermere
It's hard to imagine a more serene environment than living close to the water. You can experience that peace at Windermere. This illustrious community offers luxury living at its best—surrounded by lakes and nature, the setting couldn't be more picturesque. The high-end community is nestled amid idyllic lakes that are a part of western Orlando. Located less than 15 miles away and about a 25-minute drive, living in Windermere offers a short commute to the city. Just over 3,000 residents call this gorgeous community home, including several well-known celebrities. Stunning and spacious waterfront homes are the norm here.

A breath of fresh air, this posh neighborhood lets residents experience peace and privacy away from the hustle and bustle of city life. Here, you can enjoy the benefits of living in nature with the convenience of a major city nearby. Not to mention—Walt Disney World and Universal Orlando are just a short drive away. Excellent schools, high-end shopping and restaurants nearby, and an easy commute to Orlando and the airport are just a few more appealing qualities that draw residents here. Just because Windermere is small doesn't mean it should be underestimated. Satisfy your sweet tooth with some delicious cake at Dixie Cream Cafe or take your family blueberry picking at Beck Brothers Blueberry U-Pick. You can also enjoy classes and activities at the Windermere Branch Library or participate in the yearly Windermere Fine Art Festival.
Winter Garden
Whether you're lucky enough to live here or are visiting during vacation, Winter Garden allows you to experience Old Florida style and charm. Established in 1903, this tight-knit community is significantly tied to Central Florida's rich citrus-growing history. Winter Garden used to be a luxury resort community for northerners but has since transformed into a gorgeous residential haven. This quaint community has many appealing qualities—a deep connection to arts and culture, a plethora of museums, luscious parks, and a connection to the history of the area. Another perk of calling this suburb home is its close proximity to Orlando. Situated 14 miles west of Orlando, Winter Garden allows you to experience a slower-paced lifestyle with the city nearby.

Its historic downtown is a population destination for locals and visitors alike. Restaurants, shops, and boutiques line this quaint downtown area—it's no surprise that it has been listed on the National Registry of Historic Places. This is the perfect place to enjoy a night out with friends, celebrate a special occasion, or simply hang out on a Tuesday night. Spend the weekend at the Winter Garden Farmers Market (grab some scrumptious fresh pastries or deliciously fresh produce) or check out Garden Theatre to see which live performances are taking place. Ranch-style, modern, and traditional homes make up the real estate landscape of Winter Garden.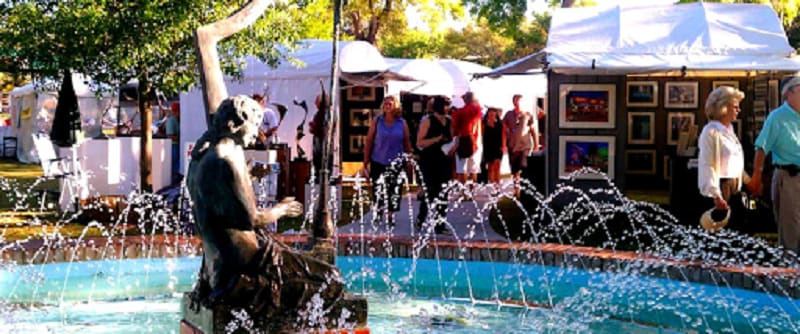 Credit: WPSAF
Winter Park
Winter Park has an abundance of attractive amenities for its residents. Charming outdoor cafés, bistros, shops, and local boutiques populate this lively community. Just over 27,000 residents call this neighborhood home. Situated directly northeast of Orlando, Winter Park is an easy six-mile drive to the heart of the city. This makes it a highly sought-after location to call home—allowing you to reap the benefits of living close to the city in a residential paradise.

Celebrating arts and culture, this suburban town is beloved for its artistic personality and dedication to creating a healthy and sustainable future. Winter Park is also known for its wide assortment of year-round festivals and events. Join the thousands of visitors who come here each year for the Winter Park Sidewalk Art Festival or join the fun and submit your own art—you might just win a cash prize! This cultural hub attracts residents who have a special appreciation for the arts. Luscious green spaces and parks dot the community, attracting young families here. If you're looking to take part in a healthy lifestyle, there's plenty of options here, too! The Winter Park Community Center is a popular fitness center or head over to Tucker Ranch, the city's newest recreation park and nature preserve. This new addition has a nature trail, a canoe and kayak launch, and a wooden play area. When it comes to things to do, this thriving community abounds with options. Indulge in some authentic Louisiana-style cooking at Tibby's New Orleans Kitchen or keep tabs on the ever-occurring, long list of artistic events taking place here.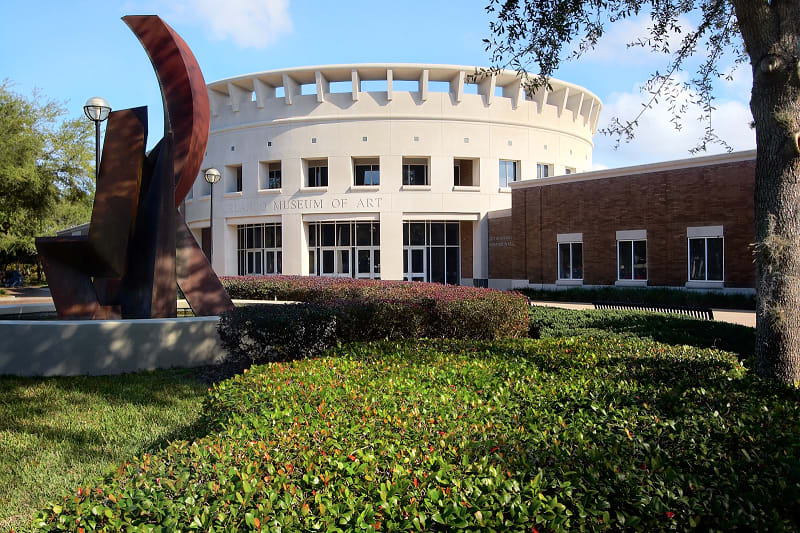 College Park
Nestled north of downtown, College Park is one of the city's most unique and upbeat communities. Despite being in such close proximity to downtown, this neighborhood is known for its luscious green spaces and small-town feel. College Park has become a popular hub for working professionals, but families, seniors, and students also live here. Living in such close proximity to the city gives you a plethora of options and things to do right at your fingertips. Some of the most attractive aspects of living here include an easy commute to downtown, a flourishing arts scene, and plenty of local businesses. Friendly residents and a laid-back atmosphere also make up this sunny Orlando community.

If you're in the mood for Sunday morning brunch, then you don't want to skip K Restaurant—a favorite with locals. With a diverse menu and dishes prepared with locally-sourced ingredients, it's no surprise why this eatery is always hopping. After enjoying a satisfying brunch, stroll through the Orlando Museum of Art, which first opened its doors in 1924. The College Park JazzFest attracts jazz enthusiasts from around the country. Drawing in thousands of visitors, this lively festival brings together some of the best jazz musicians in College Park and is enjoyed by the entire community. If jazz music isn't quite up your alley, you can still browse local shops and try out the various food trucks and drink options. The College Park Neighborhood Arts and Theatre Center is another staple of this community. Here, you will find comedy performances, musical acts, and stage plays. It's a great place to take a date for a show or enjoy a night out with friends.

Mid-century modern bungalows are among the most popular housing options here and are characterized by their stylish and modest-sized demeanor. Many of these homes have been renovated to adapt to changing clientele.
Doctor Phillips
Doctor Phillips is undeniably one of Orlando's most prestigious suburbs. The majority of homes here are expansive properties with pools, gardens, unbeatable views, and every amenity that homeowners can dream of. In addition to luxury homes and estates, this community has a lot to offer. Take advantage of walks by the lakeside or check out the new businesses that are constantly popping up. Upscale retail shops offer the best luxury products and goods. For instance, the neighboring Orlando International Premium Outlets houses numerous storefronts ranging from famous shops to local boutiques. Bridal Gallery Couture is the community's luxury bridal shop.

When it comes to things to do, you'll never get bored while living here. The annual Dr. Phillips Food & Wine Festival unites the community over conversation, incredible food, and fine wines. Nearby, the Dr. Phillips Center for the Performing Arts and its Walt Disney Theater puts on a revolving list of Broadway shows and similar performances. Enjoy an easy drive to Walt Disney World and Universal Orlando, as well as almost anywhere else in the city.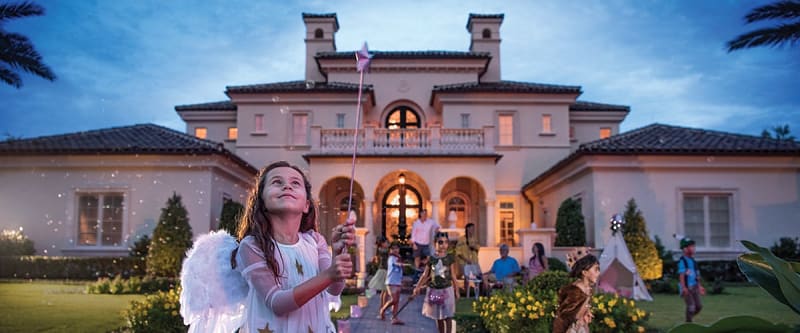 Credit: Disney Golden Oak
Golden Oak
If you're someone who loves Disney, then we've got just the place for you. Golden Oak is a luxury community that is developed and managed by Disney. Carefully situated behind the streets of the Magic Kingdom, this exclusive neighborhood is determined to give you a happily ever after. With a limited number of homes available, this neighborhood is often used as a vacation destination and full-time residence. Living here grants you unprecedented access to Disney's theme parks and wonderful amenities. Enjoy the best shops and restaurants within Walt Disney World, such as the Main Street Bakery, or go shopping at Tomorrowland's Light & Power Company. This carefully-crafted neighborhood offers you an up-close and personal piece of the magic of Disney.

If you're interested in moving to Orlando, Florida, contact Fernanda Negromonte today. As a broker and Orlando luxury real estate expert, Fernanda serves a wide range of neighborhoods in the city. From Windermere to Golden Oak, Fernanda's expertise and dedication to clients will guide you through the home buying process to help you find your dream home.