What should you be looking for when you're shopping for
Golden Oak Disney homes for sale
? There are a number of factors that play into every home search and should be at the top of your mind as a prospective buyer. A few things stand as primary concerns that should be the center of your attention. You'll learn about several of these key areas as you read through the list below.
1. Bedrooms
One of the first things you'll learn about a prospective home is how many bedrooms it has. This isn't the only thing you'll want to know about the home's bedrooms. You'll want to get a feel for how large each room is and where they are located in the home. Some parents with children prefer not to sleep on a different floor than their kids. This can be an issue in a home where the main bedroom is on the bottom level, and all of the other rooms are on the top floor. Something else you'll want to think about is how many rooms have private bathrooms. Usually, the main suite is guaranteed to have its own bathroom. What about the other bedrooms? If you have four upstairs bedrooms and only one full bathroom, this may become a source of frustration if multiple people are always waiting to get into the bathroom. If you don't plan to have someone living in each bedroom, you can use the additional space as guest rooms or for other uses such as a home office or exercise room.
2. Living areas
Many Golden Oak homes have multiple living areas. Perhaps you can set one up as a formal living room and the other as a den or family room that's more suitable for watching movies or turning on a game and relaxing. You'll also be glad that you have multiple living rooms any time that you're hosting guests. The additional gathering areas will give everyone additional space to spread out. You won't have to worry about cramming fifteen to twenty people in the same room and trying to facilitate meaningful conversation.
3. Outdoor spaces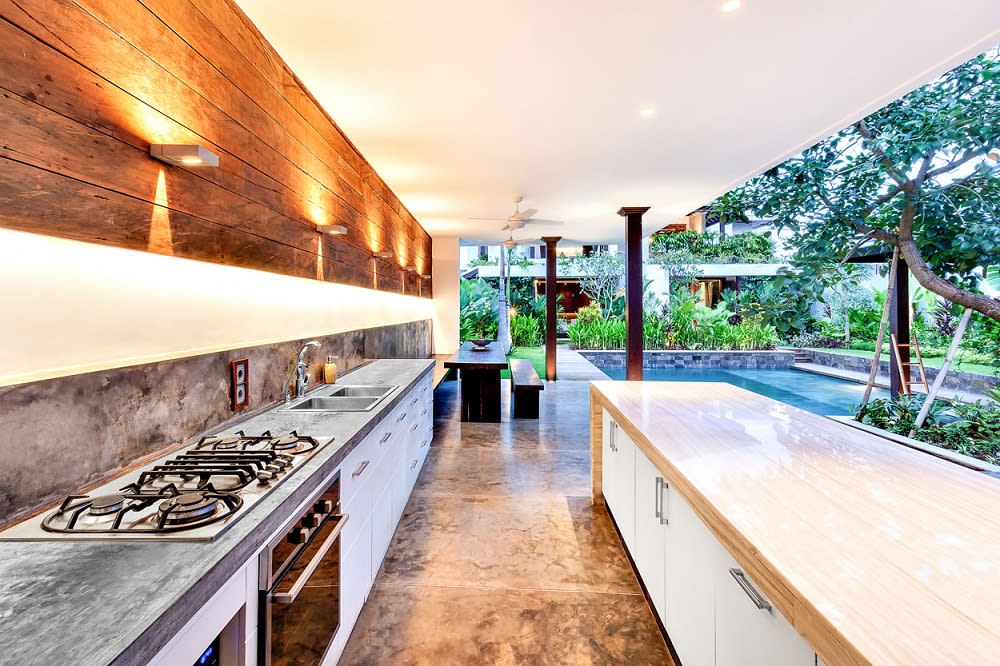 Outdoor living spaces are quickly growing in popularity, especially in an area like Golden Oak where the weather is always pleasant. As you look at different properties, think about the outdoor areas that each one has and how you can best use them. There's a good chance that the home already has a designated deck or patio area where you can put a table and a few chairs. You'll find that many Golden Oak homes also have a designated area that can serve as an outdoor kitchen. This is a great place to put a built-in grill or stove top if there isn't one already. You'll be able to fully prepare meals outside thanks to dedicated counter space and outdoor sinks. Some homes even have a private pool or hot tub. Of course, if your home doesn't already have these features and you want to add them later, you always have that option as long as there is sufficient space. This will improve your quality of life in the house while boosting your ROI for later on when you choose to sell.
4. A structurally sound exterior
Looking over a home's exterior might not sound as fun as thinking about the outdoor living spaces or the number of bedrooms. This doesn't make it any less important to consider. The state of the home's exterior will tell you a great deal about the overall condition of the home. If the home has structural issues, these can be some of the most expensive repairs that you'll have to make. They are often hard to notice by an untrained eye, which is why you'll thank yourself later on for getting an inspection before closing. For now, there are a few things you can watch out for that may present clues about what state the home is in. Cracks in the wall or doors that don't properly open and close can be a sign of a foundation that is in need of repair. Bubbling paint on the walls or strange odors in the home should make you wonder if there is any moisture trapped inside. Even a yard that is overgrown and a flower bed that is covered with weeds may tell you something about how the previous owner cared for the home.
5. Home size
This is another aspect that you'll learn almost immediately when you hear about an available home. Keep in mind that square footage addresses usable space and often doesn't include unfinished areas such as basements and attics. You have the option of finishing these areas later on, and there are several benefits to doing so. You'll likely increase the value of your home even if you can't officially count the areas as square footage. You'll also have extra rooms to use when hosting guests, which can make an impact, especially if you ever plan to list your home as a short-term rental. Guests at popular vacation destinations are often looking for properties where their whole family can stay together in the same place. Finishing the attic or basement gives you a leg up on the competition against other homes that can't house as many people at one time.
Fernanda Negromonte
is the best person to help you with your search for Golden Oak Disney homes for sale. Fernanda is a trusted advisor who takes great pride in being an ally and a resource for her clients as they shop
Orlando homes for sale
. Her insight and experience will be of tremendous value to you as you look at different properties to determine which one is the best fit for you. Fernanda is ready to help you whenever you decide it's time to move forward.